The sun is out and the days are longer, which means it's that time of year again! Time for Easter lunches and Mother's Day brunches, for bridal showers and cocktail hours on the patio. Since we've all been hibernating in our bubbles for two years I predict that the spring/summer of 2022 is going to be filled with a burst of celebrations and parties and impromptu get-togethers as we come out of the very long winter of our discontent. Which may make you wonder, "What on earth does that have to do with lavender simple syrup?" The answer is, that adding lavender to recipes is a fantastically simple way to spruce up dishes – and drinks! – and impress your friends and family. And who doesn't want to leave an impression after such a long time apart?
So why lavender simple syrup for drinks? First and foremost, you don't want to just add lavender buds to a drink; they'll float on top and the flavor will not disperse evenly. This means you'll end up with an intense (probably unpleasant) burst of lavender when you accidentally bite into a bud, and not much flavor the rest of the drink. Ground lavender will also float on top and will leave an unpleasant ring around the glass (rather than mixing in with the beverage.) You wouldn't be alone to surmise that lavender essential oil, which is already a liquid, would work – except oil separates from water so again, you'd end up with the oil on the surface rather than mixed into the drink. Also, lavender essential oil is extremely concentrated and intense, so I don't recommend home chefs cook with it. You can very quickly ruin an entire recipe. Lavender bud, treated like a spice (like cinnamon) is a much better way to go!
So the best (and simplest) way to introduce lavender into drinks (or whipped cream) is to create a lavender simple syrup. If you would like to use lavender in a drink that isn't sweet, you can infuse lavender into things like vodka or olive oil, but that's another recipe. This simple syrup is great for summertime refreshments like lemonade and iced tea, where a bit of sweetness is welcome.
Pro Tips
The recipe is extremely simple. The hot tip? Put your culinary lavender in a standard mesh tea strainer/ball and drop it into the simple syrup as it heats. Some recipes suggest you infuse the sugar first, or to steep for 30 minutes (or more) in chilled syrup – but that takes a lot of extra, unnecessary time. Instead, the heat will extract the flavor quickly, and the tea ball will keep the lavender contained so you don't have to strain the buds out of viscous syrup later. The longer the lavender is in there, the stronger the flavor will be, so be sure to taste test until it has the intensity you want.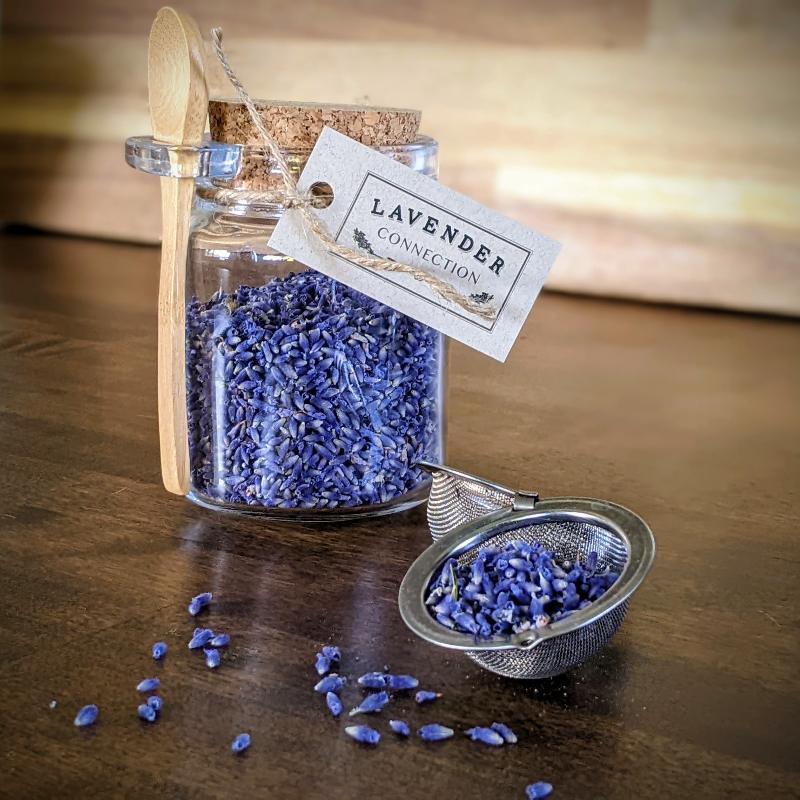 This recipe is for two cups of simple syrup, which is pretty standard for a pitcher of lemonade. However, you can always cut this in half. Simple syrup can be stored in an airtight container in the fridge for several weeks, so you can make this ahead of time, and/or make a double batch if you plan to have a cocktail party (or make several pitchers of lemonade over the next month).
Lavender Simple Syrup Recipe
2 tbsp culinary lavender buds
2 C water
1 C white sugar
Put lavender in a mesh tea ball/strainer, and drop it into a small saucepan with water and sugar. Heat on medium and stir, agitating lavender tea ball, until the sugar is dissolved. Remove from heat, and continue to stir/agitate the tea ball and taste test every minute or so until the lavender flavor is the intensity you like.
When the flavor is to your liking, remove the lavender tea ball. Allow the syrup to cool to room temperature, then either add to your drink recipe, or transfer to an airtight glass container and store in the fridge for up to 2 weeks. That's all there is to it!
pssssst – Thanks for reading our blog! Want to try cooking with culinary lavender? Enter code 9UF4K5RZ at checkout for 10% off!